On a cold 26 December 1654 a big fleet left England: 37 men-of-war under the command of Vice-Admiral William Penn and with General Robert Venable in charge of an army of 3.000 soldiers.
The orders were clear:  to attack and conquer the large  Spanish island of Hispaniola, present-day Santo Domingo and Haiti. It was an entirely new enterprise for England: it was not another privateer enterprise, like Francis Drake's ones and similar, but something different and much more ambitious. For the first time England attempted to conquer and hold the colony of one of its European rivals; Oliver Crowell's ambitious "Western Design" was on the move.   

After a one month's voyage, in late January 1655 the fleet arrived at Barbados, at that time the most important British colony in the Caribbean. After a short stay to embark provisions and more troops, among them many indentured servants that wanted to flee the island, it moved to Hispaniola. There the fleet landed the army ashore to attack the town of Santo Domingo. The attack was ill prepared and worse carried out,  and the reaction of the Spanish cavalry was strong and effective. After a crushing ground defeat, the English troops retired in disarray and had to re-embark quickly. Maybe only the absence of a Spanish fleet avoid a complete disaster.
After this crushing defeat, Vice-Admiral Penn was very worried. To return home defeated and with empty hands could be very dangerous. So, in May 1655 Penn decided to attack Jamaica, at that time a small, poor Spanish island, sparsely populated and virtually undefended. This time the amphibious attack war prepared with care and it was success, Britain took possession of Jamaica. But this did not appease Cromwell that was devastated by the Hispaniola disaster to the point he fells ill and sent Penn and Venable to the Tower.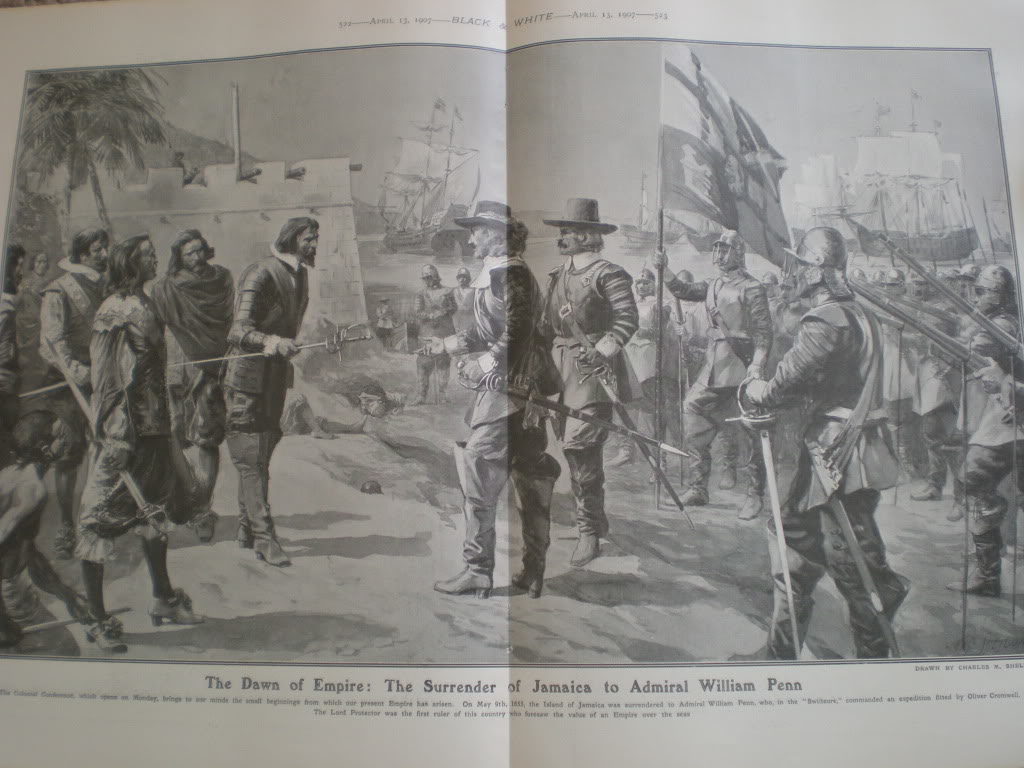 And it was in Jamaica in 1655 that rum was for the first time distributed on board the ships of the English Navy. The thing happened quite unofficially and we don't have many details about it. But we know that rum was distributed to the crews instead of the customary daily allowance of beer.
When abroad the captains were allowed to buy wine, and sometimes also brandy. But they were expensive and often produced by enemies. And in the Caribbean they were difficult to find on a regular basis and in the quantity needed by thousands of men.
On the contrary, in Barbados and the West Indies a new, strong beverage was cheap and easily available in huge quantity: Rum. With its alcoholic strength it occupied relatively less space in the hold than beer and moreover it was produced by English subjects. But, maybe more importantly, rum did not deteriorate when stored on board, on the contrary, it improved. Finally, if mixed with rum the same water stored on board was drinkable for long periods.
So rum began to be part of the ordinary daily rations of British sailors and soldiers in the West Indies. But for decades its diffusion relied on the personal decisions of captains and officers on the ground, without any standard rules for the whole Navy.
Only in 1731 did the "Regulations and Instructions Relating to His Majesty's Service at Sea" state: "Of the Provisions. In case it should be thought for the Service … in ships employed on foreign voyages, it is to be observed that a pint of wine or half a pint of brandy, rum or arrack, hold provision to a gallon of beer"
Navy Rum was born.